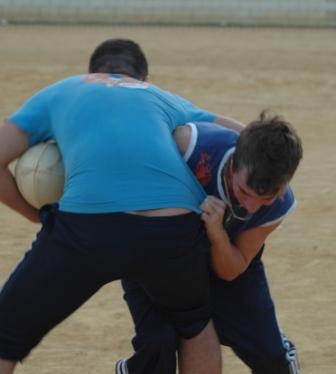 Competitions
1. The first global rugby took place in 1987, and the winners of the world so far have been Australia www.rugby.com.au, www.rfu.com England, New Zealand and South Africa www.allblacks.com www.sarfu.org.za. RWC2003Finalreport.pdf
2. The Tournament 3 nations dispute between Australia, New Zealand and South Africa. TRINations2004.pdf TRINATIONS2005Final.pdf
3. The Tournament 6 nations www.scottishrugby.org dispute between Scotland, France www.ffr.fr, www.wru.co.uk Wales, England www.rfu.com, www.irishrugby.ie Ireland, and Italy www. federugby.it. 050506 CT6NationsFinalReport.pdf
4. Fourteen of the best provincial rugby teams from Australia, New Zealand and South Africa will compete to prove who was the best in the tournament Super 14 www.super14.com.
5. The best clubs in Europe is disputed by the European championships www.ercrugby.com. The best rugby nations in producing highly competitive provincial teams, organize competitions between clubs and provincial and national championships for men and women of different ages. HeinekenERC.pdf
6. A senior provincial teams tournament between Spaniards. Www.ferugby.com
7. The Division of Honor in Spain allows the best teams to participate in rugby league and that one of them would become the club champion Spain.
8. The Cup is a tournament that play all clubs Spanish national leagues.
9. The National Universities Championships.
10. Competitions between provincial Spanish clubs.